The FBI can't crack Android's Pattern Lock. The Sanford Airport says no to the TSA. March Madness will be streamed to all of the Internet. Encyclopedia Britannica ceases production of encyclopedias. People are sending money to the RIAA and MPAA in droves, listen in to find out why. Homeless people in Austin, TX have become 4G hotspots for SXSW. Is your ISP spying on you? If they aren't they will soon start! All this, and a Recent Study, a couple of Epic Fails, and an Oh Asia, You So Crazy!
Sex-deprived fruit flies drink more alcohol: New study could uncover answers for human addictions
Time-travel Attempt Kills Two Chinese Schoolgirls
flocculation - The process by which individual particles of clay aggregate into clotlike masses or precipitate into small lumps.
Additional Notes
Edit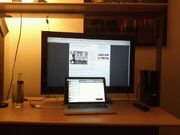 LOLschwitz is a reference to a story from episode 10